Features and Amenities at Lost Tracks in Bend
Lost Tracks Golf Club offers more than just great golf. View all of the great amenities available to the public.
State-of-the-art GPS
GPS is included with a cart rental at no extra cost! This GPS system is like none that you have ever seen before! The first thing you will notice is the big, bright display screen. The next thing, and possible the best part about the GPS system at Lost Tracks, other than that it is included in the price, is that you never have to touch the GPS system to operate it! You just play golf and look at it. All the information you want to know is there. No need to switch to a different view. You do not have to move a cursor around to figure out how far the trap is or what the lay-up distance is! Just play golf and look at it! Finally – a technological improvement that we didn't need a book or a lesson to figure out!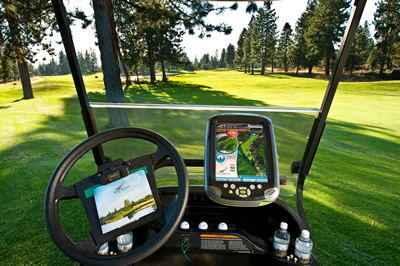 Full-Service Golf Shop
Golf Memorabilia
Restaurant and Bar
Driving Range and Practice Facilities
Lost Tracks Golf Club is one of the premier Public Golf Courses in Central Oregon, and with that comes a great area for locals and visitors alike to practice and improve your golf game.
With a 13,000 square foot Practice Tee the driving range is always available to work on your full-swing
Grass Tees YEAR-ROUND (NO injury provoking mats used here).
Two expansive putting and chipping greens: A great area to hone the all-important short game
Director of Instruction, Bryan Greco, is always available for lessons. Please visit Lost Tracks Golf Academy for more information.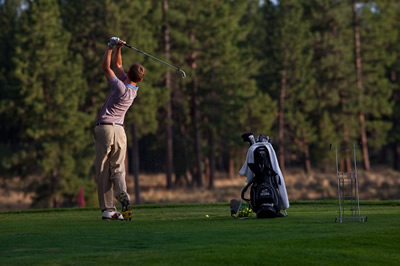 Private Events
Lost Tracks Golf Club is a great place to hold your next Private Event. Whether it is a Smaller Corporate gathering or a Large Company retreat Lost Tracks Golf Club can fill your every need. With a full-service restaurant and bar, as well as a professional staff to take care of your golfing needs-From intimate to expansive Lost Tracks Golf Club will make sure your event shines!
Birthday Parties, Anniversaries, Family Reunions or just a guy's weekend getaway Lost Tracks Golf Club has the team to make sure that your event goes off without a hitch.
In addition, Lost Tracks Golf Club has great relationships with local caterers-So if your group and event has a local company that you prefer, we are happy to work with them and provide a great location!